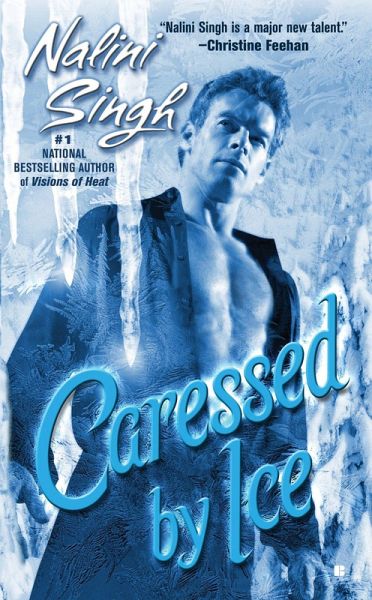 Title: Caressed by Ice
Author: Nalini Singh
Publisher: Berkley Sensation
Source: Purchased
Age Group: Adult
Overall:

♥♥♥♥♥



As an Arrow, an elite soldier in the Psy Council ranks, Judd Lauren was forced to do terrible things in the name of his people. Now he is a defector, and his dark abilities have made him the most deadly of assassins - cold, pitiless, unfeeling. Until he meets Brenna...

Brenna Shane Kincaid was an innocent before she was abducted - and had her mind violated - by a serial killer. Her sense of evil runs so deep, she fears she could become a killer herself. Then the first dead body is found, victim of a familiar madness. Judd is her only hope, yet her sensual changeling side rebels against the inhuman chill of his personality, even as desire explodes between them. Shocking and raw, their passion is a danger that threatens not only their hearts, but their very lives...
When I finished reading Visions of Heat I hoped that in Caressed by Ice I would meet a couple I´d love yet again and Singh did not disappoint me: Brenna and Judd touched my heart with their unbelievable strong will to fight for their love.
Caressed by Ice is in no way an easy novel. Singh writes about a few really difficult topics like abuse and rape and I was curious how she would choose to deal with it. I was glad that she did not get to much into detail and mostly concentrated on Brenna´s mental state. It was so easy to connect to Brenna and her pain, because she is a lovely person one just has to admire for her strength and will to stay sane. She is a really strong-minded female and I felt with her all the time. I exactly understood her longing to be free and her fear of loosing herself in the process.
Judd is not what Brenna needs, as she has to recover from the physical and emotional wounds she suffered. She knows it and he knows it as well. Judd is cold, merciless and conditioned to not feel anything. She needs touch and affection to not loose herself to insanity. However, both feel that there is more to them and are willing to risk everything in order to find out what that is - even their own lives.
This is the first novel that features the SnowDancer den and not the DarkRiver´s. I was surprised to find myself enjoying this "family" just as much and came to love a lot of characters. Brenna´s brothers are exactly like you picture big brothers: overprotective and prejudiced when it comes to potential boyfriends. Yet, their criticism doesn´t stand a chance, because Brenna got one mind of her own and her abduction showed her when to leash out. She does not want to be caged ever again, but her brothers are slowly crushing her with their need to keep her safe.
The plot this time concentrates on finding the evil person who sold out Brenna to the sociopath councilor. The reader is also introduced to another rebel Psy, who is still hooked to the Psynet. I know it will be one hell of a surprise to find out who the Ghost actually is...
It´s both funny and frightening to follow Brenna´s and Judd´s story. There are so many horrific elements that kept me reading and reading, but there are just as much lovely situations when Judd actually shows signs of affection and love.
Their story is a beautiful one and I think their love is one of the most purest in the whole series. I really loved to see them interact and the ending is so stunningly beautiful that it brought me to tears.
The Yearning Mermaid says: "Book #3 in the Psy/Changeling series introduces the reader to the Snow Dancers and the new characters will touch your heart! I know for sure they touched mine!"